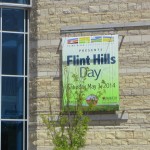 The first ever Flint Hills Day kicked off Saturday morning at 7 a.m. with the "Run for the Hills" 5K run/walk.  As part of Bike Month, bike riders also traveled to the Flint Hills Discovery Center for the day.
Different activities were located throughout the building, and throughout the day.  The bulk of the events began at noon.  Entertainment was provided by "The Skirts", educational crafts were available for children, and live birds were available to view.
Food vendors, including Hy-Vee and KSU Meat Science Club, provided lunch and dinner.
The main event was the Kaw Nation Dance, which took place on Blue Earth Plaza at 6 o'clock that evening.
FHDC Director, Fred Goss mentioned this may be the first of it's kind, but they expect to have more Flint Hills Days throughout the year, and are working on plans for 2015.
(a full video of the event, including a short interview with Goss, will be uploaded soon)