Updated Friday morning: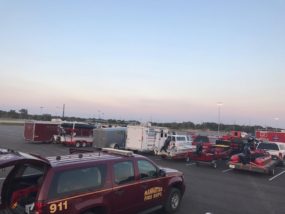 The Manhattan Fire Department is announcing after a long day of driving, the Kansas Task Force set up forward camp in Rosenberg, Texas. They have been assigned to Fort Bend County and are awaiting specific assignment.
###
(Earlier report)
Five Manhattan firefighters have been deployed by the Office of the State Fire Marshal through the Kansas Division of Emergency Management to assist the state of Texas with flooding from Hurricane Harvey.
Under an Emergency Management Assistance Compact, teams comprised of various departments and equipment from across the state have come together as a single task force to assist in water search and rescue efforts.
In addition to MFD personnel, firefighters from Salina, Mission Township, Olathe, Chanute, Neodesha, Parsons, Pittsburg, Sedgwick County, Hutchinson, Shawnee, Derby, Winfield and Newton will be assisting, along with the South Hutchinson Police, Saline County Sheriff and the Kansas Office of the State Fire Marshal.
The State Task Force is deploying Wednesday evening en route to College Station, Texas, where they will receive their eventual assignments. The task force is expected to return on Sept. 6.