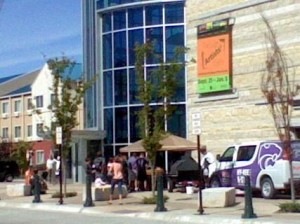 A variety of activities were offered during Sunday's Flint Hills Discovery Center Family Day.
This is one of two annual events that allows the public to experience the center, free of charge.    The day kicked off at noon and concluded at five o'clock that afternoon.
When entering the center, attendees were given a schedule of the events, as well as a scavenger hunt.  The scavenger hunt featured nine questions.  Some of the answers were located within the center's new art exhibit- "Through Artists' Eyes".
Hy-Vee provided food and drinks that could be purchased throughout the day.  The Pepsi drink cart also provided drinks on the third floor terrace.
Some of the other activities included- Walgreens photo booth, face painting, scratch boards/painting, and a Hazel Hill chocolate sale.