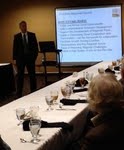 While many of us may have heard about the Flint Hills Regional Council, the group's new Executive Director Bill Clark is trying to get the latest word out to leaders in the community, with a presentation at Monday's Intergovernmental Luncheon. Clark tells KMAN his goal is to educate people about what the Council is currently working on.
During the meeting, Manhattan/Ogden USD 383 Superintendent Bob Shannont asked about the possible role of school districts, which Clark says his group will be looking at on a regional basis, as well as a closer look at bringing city managers together.
Clark, who has served in his new role for about six weeks, was also asked about legislative issues and the impacts on his group. He says the Council will be looking at areas of focus for state and national legislators. He hopes to have that list finished up after the next meeting in November.
Clark told the group about benefits of the council, which now includes 20 different entitities,  with four being counties and 16 being municipalities, with plans to expand into Lyon and Chase Counties, and to find funding alternatives after expiration of the "HUD" grant the end of 2014.
Clark had served as Garrison Commander at Fort Riley until his recent retirement.
The intergovernmental group meets monthly and is made up of officials from Riley County, the City of Manhattan, USD 383, Kansas State University, the Manhattan Area Chamber of Commerce, and Fort Riley.