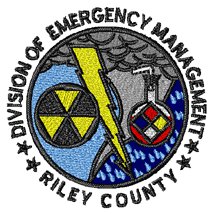 Riley County residents who live close to rivers and creeks may want to be on the look-out.
That's according to Riley County Emergency Management Director Pat Collins who tells KMAN most of the county received two inches of rain Thursday, with expectations for the Kansas River to crest around 17 feet.
Collins says that could cause problems up Wildcat Creek if we get a lot more rain.
And in fact, The National Weather service is forecasting more rain this weekend. Those residents who live close to rivers and creeks should be aware that Thursday night's rains have caused some rivers and streams to rise to near flood level. Preparations should be made for additional rainfall and possible flooding.
An IRIS alert has been put out regarding concerns about possible flooding.
Wildcat Creek at Keats had levelled out by noon Friday will below flood stage.