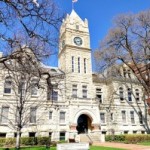 A former Kansas State University visiting assistant professor of interior architecture and product design will be in court Wednesday for his trial.
28 year old William Yankey was arrested in September of 2012 at his home on the 1800 block of Colorado street here in Manhattan. After being arrested on a $50,000 bond for suspicion of of rape, he was released.
The reported rape occurred on December 8th of 2007, in the northeast portion of Manhattan.
With the jury selection taking up most of Tuesday, Judge Meryl Wilson will hear from witnesses as the trial begins Wednesday.
KMAN's Laura Monsanto will be in the courtroom during the trial.
———————-
Update-morning of Wednesday
Barry Disney,  Senior Deputy County Attorney for Riley County, was the first to present his opening statement during the State of Kansas vs. William Yankey case at 9 o'clock Wednesday morning.
Disney stood in front of the twelve jurors and began his statement with, "This is a case of betrayal. When the defendant came into the bedroom, it was not only a violation of her body, but a violation of her trust".
He walked through the background of how the victim and her husband met, and explained that Yankey was in the couple's circle of friends. The victim's husband met Yankey in their K-State dorm during their freshman year, and lived in an apartment with him years prior. They both graduated together in May of 2007.
Yankey was in the couple's wedding prior to graduation in September of 2007.
Disney's opening statement walked the jury through the night of the incident, the details of how the timeline of the evening, and the next day.
Yankey's Attorney, Barry Clark began his opening statement with, "I always feel like I'm Paul Harvey when I get up here, because I'm going to tell you the rest of the story."
Clark asked the jury pay very close attention to the evidence in this case, and brought up the fact that the victim did not report the incident until 4 1/2 years after it took place. He also mentioned Facebook photos and comments that were posted during that period of time, that indicate the victim had continuous contact with Yankey.
The state called their first witness to the stand- who is said to be the victim in this case. After taking the stand, the woman began to cry and her voice began to crack.
She explained how she met her husband and how she met the defendant through her husband.
She began to share the details of the night of December 7th, 2007, when Yankey was to spend the night at the couple's duplex. The group went to Aggieville and had a few drinks that evening. The victim testified she and her husband only had a few drinks and were not drunk, but Yankey drank in excess.
After returning home after midnight (December 8th), the woman says she retreated to her bedroom to watch tv and go to bed. She changed into a t-shirt and "night pants" and went to bed.
Once falling asleep, she  recalled feeling hands on her, one on her breast, and fingers inside her. When explaining this portion of the evening, her voice began to crack.
She explained there was light streaming in from outside lamps and she could see it was Yankey who was on the bed with her. She stated she did not know where her husband was during this time.
She told the court she was scared and didn't know what to do, so she pretended to be asleep and rolled over. She claimed she heard Yankey say, "You know you liked it, and you know where you can get some more".
Yankey had already left the duplex the next morning, as December 8th was the winter graduation for K-State. The alleged victim went out with friends that evening in Aggieville and received texts and two phone calls from Yankey.
She said she met Yankey at Pita Pit, where they were to talk. The woman remembers stating, "What I consider what you did would be called rape".
Yankey gave her excuses such as, he was drunk and he was molested as a child. She stated he told her, it would ruin his friendship with her husband if she said anything.
This case will be back in session at 1:00 this afternoon to cross-examine the alleged victim, and hear from other witnesses.
———
Update-Wednesday afternoon
The supposed victim in this case took the stand again after court resumed. She shared information about when she was questioned and when she gave her opening statement.
The woman claimed the officer that questioned her made her "feel bad" for not coming in sooner. She said she was frequently asked, "why didn't you come in before?"
Yankey's Attorney, Barry Clark, cross examined the victim with questions about the phone calls and texts she had mentioned in her written statement. The court was able to view two screen shots of phone calls from Yankey, but the woman did not produce any text messages.
Once the woman decided to inform her husband of the incident, he became very angry and made a phone call to Yankey, stating, "stay away from us".
She stated she had many reasons for not telling her husband before that time.
The woman told Attorney, Barry Disney, she hid the shorts in a drawer with other clothes she doesn't wear anymore. She claimed she got them from her husband for a previous Christmas gift and she felt bad if she threw them away. She also stated she told the officer she had them, but the officer did not request that they be brought to the police station.
—
The second witness to take the stand was Riley County Police Officer, Steve Gregoire. Although currently Gregoire serves as an evening patrol officer, he was a detective during the time of this case.
Gregoire began by explaining how "walk-in" visits work, and stated the woman came in on May 2nd, 2012. He was assigned the case on May 7th. Gregoire reached out to the victim prior to her walk-in, asking for a written statement. After days of not hearing back, he invited Yankey to come in and tell his side of the story.
The court was able to view a video from June 12th, 2012 when Gregoire questioned Yankey for the first time.
When being asked,in the video, about the incident, Yankey stated, "this is actually vivid to me, because her husband was a best friend of mine. There was lots of alcohol involved, we had been drinking, and her husband and her had been in a huge fight. I went to console her when she was upset. I remember waking up the next morning and she pulled me aside the next day and asked if I remembered anything. She said when we talked, I forced myself upon her and grabbed her in a couple places".
Yankey said in the video, he has seen her and her husband since that time at football games and in Aggieville, but they always look the other way.
Clark questioned Gregoire, asking about the texts and calls. Gregoire stated he did not believe cell phone companies kept calls and texts that far back, but technology has changed since then.
Clark mentioned, although companies don't save those things, they can be found in phone records.
This case will resume on Thursday morning at 9:00.