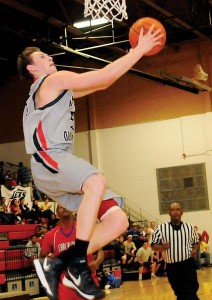 Connor Brooks is a former Manhattan High standout in basketball. In 2011, he was named to the honorable mention list of best players in class 6A. During that time, the Kansas State men's basketball team was under the regime of Frank Martin and his assistant Brad Underwood.
In mid April, Brad Underwood was named as the new head coach of Stephen F. Austin. This is Underwood's first head coaching position at the Division-I level, and he takes over a program that had sustained success under former head coach Danny Kaspar.
Connor Brooks has spent his last two years playing at Northern Oklahoma College, a junior college in Enid. During his two years, Northern Oklahoma compiled an overall record of 45-20. Last season, Connor was named to the 2012 first team region tournament team and was very successful with his time at Northern Oklahoma. Connor and Brad will team up together as Connor has committed to play basketball next season at Stephen F. Austin.
He averaged 13.7 points per game, 6.8 rebounds per game and 3.4 assists per game. He shot 42.5% from the field, 37.8 % from three point range and was also a 77% free throw shooter in his two seasons at Northern Oklahoma.