Fort Riley honored multiple Medal of Honor recipients with a street naming ceremony on Tuesday as part of their Big Red One Year of Honor.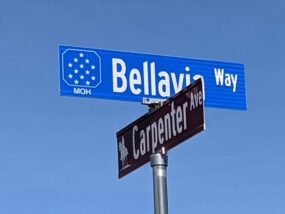 The ceremony started off with the unveiling of a street sign, named after SSG David Bellavia.  Bellavia is one of four recipients to honored during the ceremony and the only living 1st Infantry Division recipient.  Commanding General DA Sims presented Bellavia with a copy of the street sign and the official order.
"It's a great honor for us to be here with Bellavia and to be able to memorialize this road in his name so each time we see his name, we are reminded of your example," says Sims.
Bellavia was awarded the Medal of Honor in 2019 by President Donald Trump for his actions back in 2004 during Operation Phantom Fury in Iraq.  Not only was Bellavia honored with a named street, but his story will now be immortalized in the Fort Riley museum.
After the street naming ceremony, Supervisory Curator Robert Smith was joined by Bellavia in unveiling the display.  Smith thanked Bellavia for donating his personal items for the display.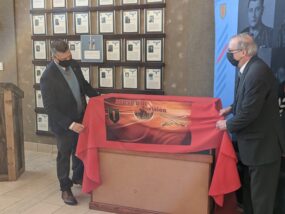 "SGG Bellavia's heroic actions in Iraq add another chapter to the division's storied history, and offers inspiration to all former, present, and future soldiers," says Smith.
After the ceremony, Bellavia spoke with the media and said
coming back to the fort was like coming home.
"Just incredible hospitality from one of the most storied divisions in the history of our country.  You always want to be a part of the greatest team in the world and they bring you home and they sat how much they appreciate you," says Bellavia.
Bellavia says the day he was awarded the medal was the most surreal experience and even weirder than having a street named after him.
"I'm a kid from Buffalo, New York so this is something I'm not accustomed to.  I just did my job and made sure we got out of it and by the grace of God we did," says Bellavia.
The other three Medal of Honor recipients who were honored with street names were 1LT Gary Miller, SFC Matthew Leonard, and SPC Robert Law.  Fort Riley will continue to honor and recognize the other 33 1st Division Medal of Honor recipients with street name ceremonies throughout the year.
This slideshow requires JavaScript.