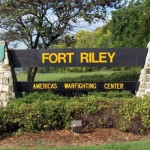 The 1st Infantry Division will be holding a Naturalization Ceremony on Fort Riley this Wednesday for five soldiers.
The ceremony is set to begin at 9:45 and will be in conjunction with Law Day.  This is a national day set aside to celebrate the rule of law.  Law Day underscores how the law and the legal process contribute to the freedoms that all Americans share.
The five soldiers being honored during the event will take the Oath of Allegiance, as they become United States citizens.  These five soldiers are:  1st Lieutenant, Sonny Saleutogi; Spc. Hamder J. Meran Castillo; Pfc. Tonion Coby; Pfc. Santos F. Iglesias and Spc. Harry Seymour.