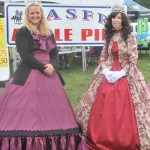 (Photo Courtesy of Fort Riley Public Affairs)
A busy Artillery Parade Field filled with the sweet smell of Apple pies and the roar of machine guns was among the sights, scents and sounds at the 1st Infantry Division and Fort Riley's Fall Apple Day Festival that took place from 9 to 3 p.m. Oct. 5.
The free event, a tradition at the installation since the 1980s, is always celebrated in the fall and is one of the largest events hosted annually at Fort Riley. The post saw about 7,000 people enjoy the festival today. The festival included historical reenactments, static vehicle and aircraft displays, demonstrations by military working dogs, Commanding General's Mounted Color Guard demonstrations, a treasure hunt, petting zoo, obstacle course and more. Unit Family readiness groups sold food and beverages, and the Historical and Archaeological Society of Fort Riley sold its famous apple pies. An expo tent and a wellness tent rounded out the event's activities along with musical performances on a stage.