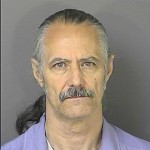 A Kansas Department of Corrections inmate convicted in Geary county for attempted first degree murder and other charges has apparently been passed over for parole this time around.
The latest KDOC update indicates 66 year old Tabor Adkins isn't eligible for parole until May first of 2015. His last parole hearing was in April. Adkins had also been denied parole in September of 2009.
Adkins is serving time on convictions of attempted first degree murder, aggravated kidnapping, and aggravated sodomy. He was convicted in 1983 and has been in jail ever since.