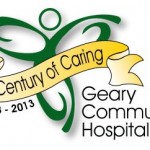 The community is invited to celebrate "A Century of Caring" in Junction City on Monday, September 9th.  The event will be held at Geary Community Hospital, which was founded on September 9th of 1913 by Dr. W.A. Carr.
From 11:00 a.m.-1:00 p.m., 400 box lunches will be distributed in the Thomas B. Fegan Dining Room, just inside the main entrance of the hospital.
At noon, there will be remarks to mark the occasion from Chief Executive Officer of Geary Community Hospital- Dr. Joe Stratton, President and CEO of the Kansas Hospital Association-Tom Bell, President of the GCH Auxiliary-Gail Stein, and Auxiliary member-Liz Sites.
The Geary Community Healthcare Foundation will give away BBQ pulled pork or ribs from former hospital trustee Lance Custer and 10 Zumba classes from Kristi Nowotny.  Other prizes will also be given away throughout the two hour celebration.
Patient meal trays will feature a centennial look, a trivia quiz and a tiered and frosted cake.
For additional information call Public Relations Director, Cyndy Platt at 785-210-3307.