The Manhattan Area Chamber of Commerce and the Pottawatomie County Economic Development Corporation announced Tuesday the formation of a regional economic development alliance to be called the Greater Manhattan Economic Partnership, according to a press release from the chamber.
Funded entirely through private dollars raised in both Manhattan and Pottawatomie County, this partnership is the result of a decade of discussion and four years of active work among the economic development organizations in the region. Matt Crocker, chair of the MACC board, said regional leaders have been asking for a combined organization to market the area ever since the federal government announced in 2008 that the National Bio-and Agro-defense Facility currently under construction would be built in Manhattan.
"This is a new beginning for the Greater Manhattan area's economic future," Crocker said. "The best way to achieve a successful national brand is to pool our resources as a region."
Jim Gordon, who will serve as the first advisory board chair for GMEP, pointed out that there are natural ties between the two groups because part of Manhattan is located in Pottawatomie County.
The economic development professionals of both organizations have already been working closely together for several years, including collaborating to secure locations in the region for Vets First Choice, Live Watch, and N Zone Sportswear.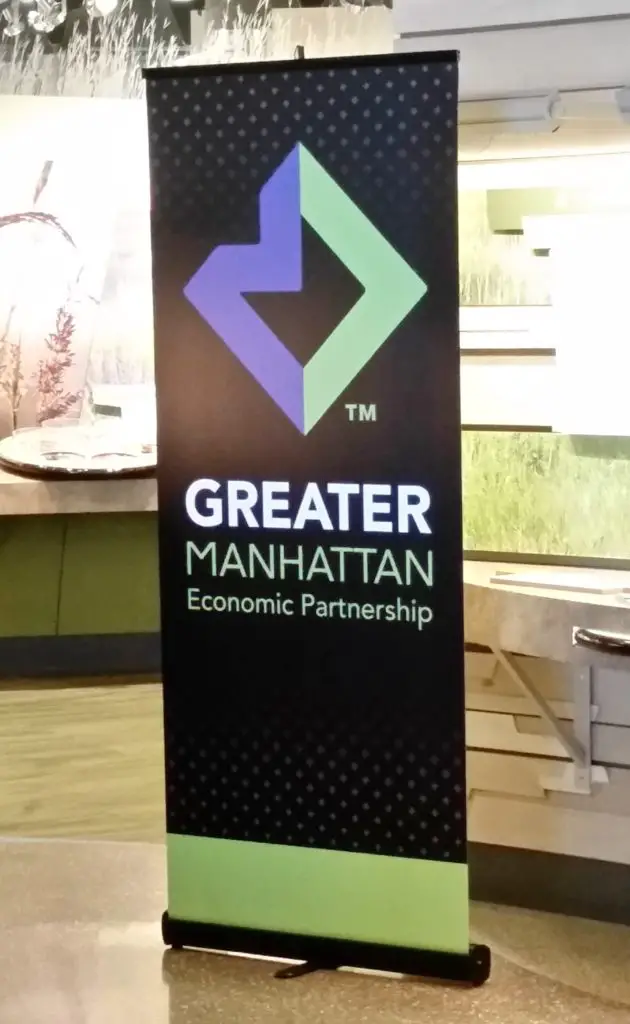 "Collectively, over the past three years, the professional staffs have built a level of trust that didn't exist before," Gordon said.
GMEP Vice-Chair Nancy Burton said the partnership's structure was adapted from several other Midwest regional economic development organizations, including the Northwest Arkansas Council, the Cedar Valley (Iowa) Regional Partnership, and the Greater Omaha Economic Development Partnership.
As part of an inter-region trip taken last fall, 50 area leaders got to meet with staff members of the Greater Omaha partnership to ask questions about the pros and cons of their model. Burton pointed out that Greater Omaha has grown in population by seven percent since 2010 (two percent more than the national average), and their partnership has helped bring more than 31,000 jobs to their region over ten years — twice the national average.
"It was good for everyone to be able to learn firsthand about how the Omaha organization is structured and how successful it has been," Burton said. "In its 20-year history, they've grown to include more than 30 communities."
PCEDC President Doug Springer said the possibility exists for GMEP to grow over time to include additional counties in the Greater Manhattan area. Future members will have to apply to join the partnership, be able to contribute financially, and be willing to collaborate openly with other economic development professionals.
"The philosophy of GMEP will be that a win for any of the communities is a win for the whole region," Springer said. "Any organization that joins GMEP in the future must also share that belief."
In 2018, the partnership's budget will be nearly $100,000, privately funded by the region to benefit the entire region. Both partnering organizations will make an annual financial contribution to the budget, which will be used to fund a joint marketing campaign, a forthcoming website to serve as a single source of information about facilities and land available in the region, and software to help staff members collaborate and share information about prospects.