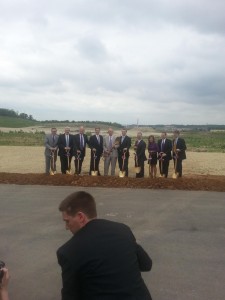 Lawmakers and other officials from around the state gathered under a cloudy sky this morning at the site of the NBAF facility near the corner of Kimble and Denison. The ceremonial groundbreaking was for the faciliy's central utility plant, which will provide the lab with things such as backup generators and chilled water.
Dignitaries at the event included Governor Sam Brownback, U.S. Senators Pat Roberts and Jerry Moran, Congresswoman Lynn Jenkins, Congressman Tim Huelskamp, Kansas State University President Kirk Schulz, Vice Chair for the Kansas Board of Regents Fred Logan, and Jamie Johnson, who represented the Department of Homeland Security.
Governor Brownback said that the facility "represents the state investing in the health and development of an animal agriculture industry so we can feed a hungry world". He added that he appreciates the Obama administration providing the funding needed to get the facility off the ground. Congressman Huelskamp added that it was also "our responsibility, to protect the number one industry in Kansas, and if this kind of research is not done here, it will be done in other places around the world", this new facility can go a long way in helping that research come to pass.
Congresswoman Jenkins spoke of the lab's huge benefit to the American people as far as national security, and that it was only through bipartisan support that it was able to become a reality. President Schulz was happy to speak of the partnership that the university has, and will continue to have with NBAF, and looks forward to the groundbreaking research the university can conduct with the assistance of the facility.
Construction of the central utility plant will start tomorrow, and is expected to be completed by October of 2015. Assuming the proper funding comes through, construction on the actual lab will start sometime next year, and is expected to be completed in 2020.