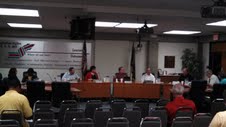 As the policy change for the disruptive acts at school or school activities was again brought up at Wednesday's Manhattan Ogden school board meeting, more uncertainty surfaced from board members.
The issue in question is the allowing of staff with conceal carry permits to bring guns on school grounds as long as they are secure in their vehicle.
At the last meeting, Aaron Estabrook, board member, brought forward the question of what exactly was meant by "secure".
Bob Shannon, superintendent, brought back the answer stating that "the vehicle must be locked and the weapon is not visible."
Estabrook continued to show is opposition by stating he could not move forward with the item.
"I cannot support this policy for three reasons," said Estabrook.  "This policy is in direct conflict with the basic principles of responsible gun ownership.  My military background instilled in me the concept of having positive control of your firearm at all times.  An unattended car in a parking lot does not meet the threshold of positive control.  In the 12 months that I carried both heavy and small firearms in combat and the 36 months that I trained with various weapons systems in garrison we never left a weapon in an unattended car.  If a soldier were to leave their weapon unattended this would be strictly handled with swift corrective action punishable under the uniform code of military justice.  This policy does nothing to further secure the students or employees of the district. It actually creates an environment that makes the district less secure by allowing unattended handguns to be in the back seat of an empty car sitting in a school parking lot… This policy unnecessarily places uncertainty in our districts ability to negotiate insurance."
Darell Edie, board member, questioned whether this policy change dealt with ammo as well.
Shannon stated he did not have an answer.
Dave Colburn, board member, brought the conversation to a close for this meeting by acknowledging the unpopularity of the item and the fact more answers need to be provided before a discussion can be made.
"In defense of the people sitting around the table, it's a pretty distasteful subject and not that we shouldn't deal with it," Colburn said.  "But I find it very difficult to know what's right here.  I mean the law is the law and certainly we don't want to set ourselves in opposition to state law.  I think we need to give administration some direction about what questions we have, why we aren't voting this up or down, while we're tabling it."  
After some discussion, the item was ultimately tabled until further time when administration can gain more information.
The new business item on the agenda was budget discussion.
As the mid year numbers are coming out, Lew Faust, director of finance for the district, brought forward an overview of where they are sitting and where the future funding looks at the moment.  This discussion will continue until the budget hearing around August.
The board members also got an update on food regulations as Stephanie Smith, director of food service, talked about the restrictions on protein and grains that have been taken away since they were established in 2012 and then the addition of regulations of less sodium content for students and mandatory fruit options at breakfast.
The next board meeting will be on Wednesday, February 5.