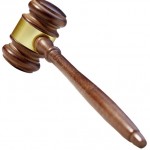 A Riley County District Court Decision in a civil lawsuit involving Kansas State University and a former employee has been reversed and remanded with directions by the Kansas Court of Appeals. The opinion was released Friday.
In the lawsuit, Rachel Platt appealed from the district court's decision, with Judge David Stutzman presiding, which dismissed her claim of retaliatory discharge against Kansas State University. The local court maintained she failed to exhaust administrative remedies under the Kansas Judicial review Act.
Platt was hired as a probationary employee by the university in September of 2011, but she maintains she began to suffer headaches and migraines and other difficulties due to the air quality in her office. The University reportedly found problems with the ventilation system in her office and attempted to fix the situation. The University later terminated Platt in March of 2012, shortly before her probationary status was scheduled to expire, citing excessive absences as the reason. Platt filed her lawsuit a few weeks later, asserting she was wrongfully terminated in retaliation for having a potential claim under the Kansas Workers Compensation Act. She alleged the work-related injury of headaches, congestion, nausea, sneezing, and burning eyes due to the poor air quality.
The district court granted the motion to dismiss based solely on Platt's failure to exhaust administrative remedies.
In its 10 page opinion, the Kansas Court of Appeals reversed the district court's decision, indicating Platt had no administrative remedy with which to comply under state civil service or judicial review regulations. The higher court also remanded the decision to the district court, with directions the action be reinstated.