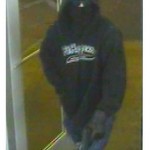 Further details have been released regarding the aggravated robbery that occurred at Dara's Conveniance Store around 2:45 a.m. Wednesday.
A description of the suspect and pictures were released Wednesday evening.
The suspect is described as being a white male, approximately 5'7″ and having a slender build. He was wearing a black or dark blue hooded sweatshirt with the words "FIT HAPPENS" written on the front of the sweatshirt in white lettering. Additionally, the suspect was wearing torn blue jeans, black and white sneakers, reflective sunglasses, and a black face wrap/mask. The suspect was also armed with a black in color semi-auto handgun.
The male suspect entered the Dara's store, located at 1816 Claflin Road near the K-State campus, armed with a weapon. The man demanded that the store clerk hand over money from the cash register. After obtaining the money, the suspect also demanded theclerk's vehicle keys. After being provided the keys, the suspect exited the business and entered the clerk's vehicle. The suspect was last seen fleeing the area operating the clerk's white 1995 Chevrolet Pickup.
Approximately six hours later, a Kansas Highway Patrol Trooper located the abandoned vehicle in the 6600 block of Tuttle Creek Boulevard, just a few miles north of Manhattan.
The Riley County Police Department asks those with information about this incident to call 537-2112 or the Manhattan Riley County Crime Stoppers at 539-7777.