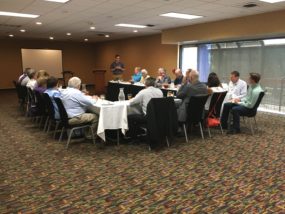 Kansas State University and the city of Manhattan were well-represented at a recent international conference–known as the International Town and Gown Association. Student body President Jack Ayres talked to Manhattan area  Intergovernmental leaders Monday, highlighting part of the conference's purpose,  which was an opportunity to hear from different cities and universities about what has been done to bolster responses and efforts to prevent sexual assault and to increase responsible use of alcohol.
Ayres mentioned three initiatives–including date rape drug testing. Other ideas included
 the possibility of selling alcohol in the stadium, so the university could more carefully monitor use of alcohol–and to help curb binge drinking in the parking lots. The third initiative has to do with students registering their parties or social events, working directly with area law enforcement.
Ayres admits funding would need to be considered with some of the initiatives and indicates he's working on that.
Also attending the conference were Manhattan City Management Assistant Jared Wasinger and Mayor Pro Tem Linda Morse. Morse
 indicated the international conference was a good networking event..
Morse adds one of the speakers addressed the need to break the wicked threesome of alcohol, drugs, and violence–and how to do that. Continuing partnerships such as the local intergovernmental group was also mentioned by Morse.
Public education is facing a lot of challenges these days and a meeting next week is geared to examine some of those matters. Manhattan/Ogden USD 383 School Board member Leah Fliter invited Manhattan area intergovernmental leaders to the Monday meeting, which will also have a representative from the Kansas Association of School Boards. Fliter adds the meeting will be open to any community members.
Fliter tells KMAN the group will be looking at school funding, accountability, and a new vision for education that focuses on career and post-secondary rather than just a standardized test.
Fliter and Mark Tallman, Associate Executive Director of Advocacy for the Kansas Association of School Boards will be guests on KMAN's In Focus this coming Monday just prior to the meeting.
The local intergovernmental group is made up of representatives from the city of Manhattan, K-State, Riley County, USD 383, Fort Riley, Manhattan area chamber of commerce, and area legislative representatives.