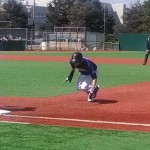 Tucker Tharp, Colby Wright and Michael Suiter had two hits apiece and Robert Kahana held Kansas State to three hits over six innings as Kansas evened a Big 12 Series in the second game of the Sunflower Showdown by holding on for a 6-3 victory before a sellout crowd of 3,847 Saturday afternoon at Tointon Family Stadium. K-State won Game 1 of the series 10-0 on Friday night.
KU strung together four hits in the top of the first inning, two of them on bunts to jump out to a 2-0 lead against K-State starting pitcher Jared Moore (5-2). The Wildcats struck back in the bottom of the second with a run on Carter Yagi's Fielder's Choice that scored Tanner DeVinny. K-State's inning would have been bigger as the Wildcats had the bases loaded with one out but the rally ended when Ross Kivett grounded into a double play.
KU stretched the lead to 6-1 with single runs in the fourth and seventh innings and a pair of tallies in the sixth, but the Bat Cats would not go quietly as they fought back with two runs in the bottom of the eighth on a Mitch Meyer double that plated DeVinny and Blair DeBord's run-scoring single that brought home Meyer. K-State would eventually load the bases and have the go-ahead run at the plate but the rally stalled when Kivett who ended the day 0 for 5 grounded into a Fielder's Choice.
K-State would have one more chance in the ninth inning when Austin Fisher reached on an infield single. Fisher was erased when R.J. Santigate grounded into a Fielder's Choice. KU put the game away when DeVinny flew out to left allowing the Jayhawks to snap a five-game losing streak in the series.
The two teams combined for 20 hits and five errors including two lost balls in the sun by K-State outfielders.
Kansas State (18-12, 2-3) will wrap up their series with their in-state rivals on Sunday at Tointon Family Stadium when Nate Griep takes the hill for the Wildcats. First pitch is set for 1 p.m.
Stay connected to all things KSU on the go just text EMAW to 88474
For full video wrap-ups, including analysis, highlights, coaches & player interviews of K-State Football & Basketball check out PowerCatGameday.com