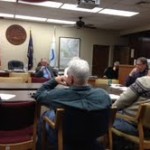 On Thursday afternoon, Manhattan City officials met with officials of surrounding counties to discuss a couple of key issues. Along with Riley County Mental Health issues, the officials discussed a Regional Partnership Initiative. The federal government has proposed the Defense Authorization Bill which will allow different departments, specifically the department of defense, to partner up with local governments.
A similar system exists in Monterrey California. The system is supposed to help reach certain cost reduction aspects. An example used by City Manager, Ron Fehr, was the unification of separate fire departments in the city of Monterrey leading to erection of  fewer fire department buildings.
The next topic of discussion included The Kansas Department of Transportation giving permission to the city of Manhattan to erect a "Welcome" sign on K-177 at the Kansas River Bridge Pier. K-DOT does have a few stipulations, such as no digital signs but have given the go-ahead for fund-raising efforts.
The next Joint Meeting was originally going to be held on January 17th at 4 pm. Due to conflicts, the meeting will be moved to an alternative date which has not yet been set.