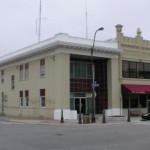 The Wamego/Pottawatomie County Commissions met to discuss a proposed project. At Monday's special Joint City/County Commission meeting, Olsson and Associates Mark Bachamp reviewed a Power Point presentation of the K-99 Industrial Community Route Study, which was completed in June of 2013. He said this is part of the local investment in transportation improvements in support of a planned KDOT (Kansas Department of Transportation) improvements for K-99.
The local plan is to develop a truck route off of Highway 24 and Balderson Boulevard through Wamego on Valley Road connecting with K-99. This would take the heavy truck traffic out of Wamego's main street. The total project cost is 4.8 million dollars, less $750,000 from KDOT. The project plan proposes a 50/50 split between the City and County, however the City of Wamego would have additional costs with water and sewer improvements in the area, bringing the split to  66/34 percent.
There's still a question on how much each party is willing to contribute to the cost of the project, with the Pottawatomie County Commission questioning some of the improvements. City Commissioner Bill Ditto said he hopes the City and County can look at the broad picture and work together to see the improvements on the K-99 Truck Route would benefit the whole area now and in the future. The plan is to start the Design process in June of 2014, with bid letting in January of 2015 and construction to take place in March through December of 2015.