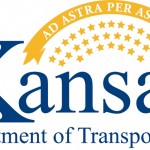 Update: Thursday morning–The K-18 traffic switch is now scheduled to take place Thursday afternoon, April 25 due to the strong potential of rain now forecasted for tomorrow, Friday, April 26.
Older report:
Eastbound and westbound K-18 from 56th Avenue to just west of K-113/Seth Child Road will be moved to the new westbound K-18 lanes and reduced to one lane in each direction for pavement reconstruction work beginning on Friday, April 26, weather permitting. These lane closures will remain in place until late fall 2013. In the case of inclement weather on Friday, April 26, crews will complete the K-18 traffic switch on Saturday, April 27. Drivers should expect delays during peak travel times and should use alternate routes if possible.
Updated traffic information for this project is available at: http://www.ksdot.org/topekaMetro/projectstudyNEKS.asp.   The Kansas Department of Transportation urges all motorists to be alert, obey the warning signs, and "Give 'Em a Brake!" when approaching and driving through the project work zone.  These closures are for construction work on the overall improvement project that will reconstruct a seven-mile stretch of K-18 from Manhattan to Ogden to a freeway when completed. There are three construction phases included in the overall K-18 improvement project.