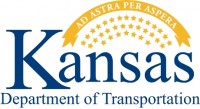 Traffic was slow going between Wamego and Westmoreland Friday morning as all lanes of K-99 over Brush Creek Bridge were closed.
But as of about 1 pm, word was released the bridge was back open.
According to the Kansas Department of Transportation, a wide load semi was stuck on the bridge, causing the closure.
The bridge is currently undergoing a replacement project, which has created the one lane of traffic being directed by traffic signals at either end or the bridge.