Kansas State University renews its 12 year university to military community partnership with Fort Riley with a signing ceremony.
Fort Riley Maj. Gen. D.A. Sims joined K-State President Richard Myers Wednesday to extend the ongoing partnership.  Myers says the partnership is too intertwined and too deep to list everything they do, but has value.
"We're just caretakers for the next group as this partnership will transcend both of our tenures.  It keeps moving on as it builds on itself every year," says Myers.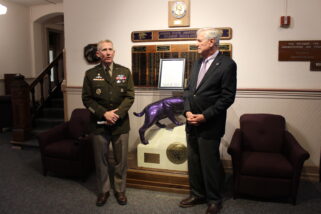 This partnership includes a variety of benefits including a smoother transition for those soldiers entering the academic field, as well as supports internships between the two entities, among other interests.
"We find places where we can add value to other's mission and go help with that.  If we can help and have the expertise, then why not do it for our community? It makes our community strong," says Myers.
Myers says when he was a student at K-State, he didn't think the university had a good relationship with the Fort. Looking at today, Myers says the great relationship is obvious.  He also says without this partnership, people at the university wouldn't have the same understanding and respect of the military's role in the nation.
General Sims says since the creation of Fort Riley, there has been some kind of partnership with K-State and its predecessors, such as Bluemont College.  The support to the US Army from previous universities and K-State has been more than academic.
"To be able to reaffirm our connection to one another is a huge deal," says Sims.
Currently, Fort Riley is working on their Victory Wellness operation, which Sims says is enhanced by this partnership.  Sims says he can't think of one of the five dimensions of strength that doesn't have some kind of connection back to K-State that also helps the community.
Myers says, as a Land Grant University, service is a pillar of the university. This partnership is part of their mission to serve by working with a community partner.