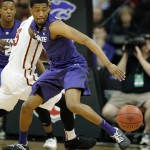 Big 12 Player of the Year Melvin Ejim led five Iowa State players in double figures with 24 points as the 16th-ranked Cyclones held off a late bid from Kansas State to hang on to defeat the Wildcats 91-85 Thursday afternoon in the Quarterfinal round of the Phillips 66 Big 12 Men's Basketball Championship at Sprint Center in Kansas City, Mo.
K-State got off to a strong start in the game as Marcus Foster scored 16 of his 21 points in the first half and helped the Wildcats build an early 17-11 lead. However, one of Iowa State's strengths is the three-point basket and the Cyclones made plenty of those while using a 17-6 run to take a 28-23 lead with 6:10 remaining before halftime. Will Spradling then knocked down a three-pointer of his own to draw the Wildcats to within two points at 28-26. From there the two teams battled back and forth with a three-pointer from Foster shaving Iowa State's lead to 43-41 at halftime.
In the second half however, Foster picked up his fourth personal foul with 11:04 left and had to sit on the bench for several minutes while adding just five more points to his first half total. Still K-State and Iowa State took turns in the lead for much of the second half with the Wildcats' last advantage at 72-70 with 6:28 left in the game. Then the Cyclones bolted to a four-point lead with a 6-0 run before K-State ran off four unanswered points to tie the score 76-76 on a Foster layup with 3:43 left.
A pair of Thomas Gipson free throws tied the game at 78-78 before Naz Long gave Iowa State the lead for good on a three-pointer with 2:53 left. Still the Wildcats would not quit as they kept the score close but the game's key moment came with just over one minute left when Shane Southwell on a fast break down the court turned the ball over as teammate Wesley Iwundu stood wide open in position to make a potential game-tying or lead-taking shot. From there the Cyclones knocked down a pair of free throws and finished the game with a layup to advance to a Friday semifinal match-up against Kansas which defeated Oklahoma State 77-70 in overtime later Thursday afternoon.
Despite the late turnover Southwell had his most productive game since January with 19 points, Nigel Johnson had a career-high 17 points and Gipson added 13. For Iowa State, joining Ejim in double figures were Dustin Hogue with 19 points, Georges Niang with 18, Long with 14 points and De Andre Kane with 11.
Kansas State (20-12) will now await its NCAA Tournament Destination with the selection show set for early Sunday evening. The invite would mark an unprecedented fifth consecutive trip to the Big Dance for Bruce Weber's Wildcats.
Stay connected to all things KSU on the go just text EMAW to 88474
For full video wrap-ups, including analysis, highlights, coaches & player interviews of K-State Football & Basketball check out PowerCatGameday.com