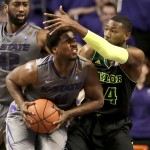 Kenny Cherry scored 29 points and was perfect from the free throw line as Baylor made their finals 17 attempts from the charity stripe helping the Bears hold on to defeat Kansas State 76-74 on Senior Day Saturday at Bramlage Coliseum.
After the game was tied 4-4 early on, K-State went on a 9-0 run to lead 13-4 with 12:47 left in the first half on a Shane Southwell jumper. Both teams struggled from the floor for the rest of the half and while Baylor did close to within three points, the Wildcats used a 10-4 run closing out the first half as they went into the locker room with a 33-25 advantage at intermission.
K-State stretched the lead to 37-25 at the start of the second half but their shooting from both the field and the free throw line betrayed them and the Bears began to heat up. Over the next 11 and a half minutes, Baylor would outscore K-State 28-9 to take a 53-46 lead with 6:11 remaining.
The Wildcats despite trailing by as much as eight points refused to give up and Marcus Foster was a big part of that effort as he knocked down six of his seven three pointers down the stretch for a team-high 29 points. The difference in the game however was free throws and Baylor was money from the charity stripe in the final minutes. After Baylor threw an inbouds pass out of bounds K-State had one last chance for a miracle victory but a full-court pass was intercepted and the buzzer sounded ending the Wildcats' 15-game home court winning streak, their longest since the 1981-82 season.
K-State was 19-27 from the free throw line for the game and just five of 11 in the second half. The Wildcats also made just 15 of their 33 shots from the floor in the second half. Joining Cherry in double figures for the Bears was Cory Jefferson who had 16 points. Thomas Gipson added 16 points for K-State and Nino Williams had 15. The game marked the final time on the Bramlage hardwood for Omari Lawrence, Ryan Schultz, Shane Southwell and Will Spradling who were honored in a pre-game ceremony.
Kansas State (20-11, 10-8) lost at home on Senior Day for the first time since 2010 and now turns its attention to the Phillips 66 Big 12 Championship at Sprint Center in Kansas City, Mo. K-State will begin play in the tournament on Thursday against Iowa State.  Tip off is set for 11:30am; our coverage will begin at 10:30am.  The Wildcats and Cyclones split the regular season series, with each team winning at home.
Stay connected to all things KSU on the go just text EMAW to 88474
For full video wrap-ups, including analysis, highlights, coaches & player interviews of K-State Football & Basketball check out PowerCatGameday.com