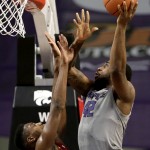 Shane Southwell scored 13 points in his best game in more than a month and four other players tallied double figures as Kansas State outlasted Iowa State 80-73 in a physical and sometimes contentious game Saturday night at Bramlage Coliseum.
The Wildcats got off to a rough start as they were victimized by some questionable calls from the officiating crew which allowed the Cyclones to jump out to a 9-4 lead. It was during that time that K-State coach Bruce Weber received a warning for arguing the calls but what it also did was light a spark underneath his team. The Wildcats proceeded to go on a 16-0 run over the next 4:06 for a 20-9 advantage. K-State would lead by as much as 31-19 before Iowa State led by star players Melvin Ejim and DeAndre Kane crept back to within 39-34 at halftime.
For much of the second half, the Wildcats were able to maintain a slim advantage leading by as much as 49-44 with 15:21 remaining but Iowa State refused to quit and tied the game at 55-55 on a pair of Ejim free throws with 11:22 left. The Cyclones took their first lead of the second half on a three-pointer by Ejim but K-State responded and regained the lead on a dunk by Thomas Gipson. Iowa State led 62-60 with 8:11 remaining on the clock but K-State went back in front thanks to three free throws, two of them by Marcus Foster who stepped up in the second half after going to the bench early in the first half after getting into foul trouble.
The key point of the game happened in the final two minutes. The Cyclones knotted the score at 69-69 on a three-pointer by Monte Morris but Will Spradling who was honored before the game for becoming the 25th player in K-State history to surpass the 1,000-point barrier gave the Wildcats the lead for good with a three of his own with 1:37 left. From there K-State scored six of their final eight points from the free throw line where they made 23 of 29 shots for the game thus securing the eighth consecutive winning season for the program and record 15th straight win on the Bramlage hardwood.
Joining Southwell in double figures were Gipson and D.J. Johnson who scored 12 points apiece while Foster and Wesley Iwundu added 11 points apiece. Ejim who was called for a technical foul during the second half after he appeared to taunt Nino Williams led all scorers with 30 points while Kane added 24. The win by K-State put the Cats in a four-way tie for second place in the Big 12 joining Iowa State, Texas and Oklahoma. The Sooners defeated the Longhorns earlier Saturday in Norman 77-65.
Kansas State (20-9, 10-6) will now travel to Stillwater for a Big Monday match-up with Oklahoma State. Tip-off is set for 8 p.m.
Stay connected to all things KSU on the go just text EMAW to 88474
For full video wrap-ups, including analysis, highlights, coaches & player interviews of K-State Football & Basketball check out PowerCatGameday.com