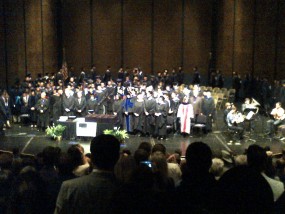 Commencement services began on Friday, and took up a large portion of the day Saturday.  Kansas State University students accepted diplomas during the following graduation ceremonies on Saturday:
College of Arts and Sciences, 8:30 a.m., Bramlage Coliseum, with John Hofmeister, founder and CEO of Citizens for Affordable Energy.
College of Architecture, Planning & Design, 10 a.m., McCain Auditorium, with Colin Noble, president and CEO of Noble Hospitality Inc., a hotel management and renovation company.
College of Education, 11 a.m., Bramlage Coliseum, with Robert Shoop, Kansas State University professor emeritus of educational leadership.
 College of Business Administration, 12:30 p.m., Bramlage Coliseum, with university alumnus Richard Myers, retired U.S. Air Force general and former chairman of the Joint Chiefs of Staff.
College of Agriculture, 2:15 p.m., Bramlage Coliseum, with university alumna Jackie McClaskey, secretary of the Kansas Department of Agriculture.
College of Human Ecology, 4:15 p.m., Bramlage Coliseum, with Diane Parks, vice president of sales for the nephrology business unit of Amgen, an international biopharmaceutical company.
College of Engineering, 6:15 p.m., Bramlage Coliseum, with Kirk Schulz, president of Kansas State University.
KMAN attended the College of Architecture, Planning and Design ceremony, held at McCain Auditorium.  President and CEO of Noble Hopitality Inc, Colin Noble was the featured speaker for the event.
Spending several years in Ireland, he shared his comedic story of how he came to Kansas.  Noble helped to build the Holiday Inn hotel near campus.  He has also helped to build a number of hotels in 20 different states.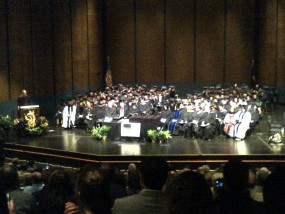 More than 2,550 bachelor's degrees; 676 master's degrees; 118 doctoral degrees; 100 Doctor of Veterinary Medicine degrees; and nearly 30 associate degrees were awarded for this spring. About 240 students earned their degree through distance education, which is offered through Kansas State University Global Campus.