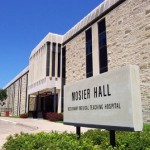 Members of the beef industry and local farmers gathered to hear from different speakers during the 2013 Kansas State University Beef Conference.
"Strategic Cow Herd Management Surviving and Rebuilding after Persistent Drought" was the theme for this year's conference.  Presentations took place in Frick Auditorium, located in Mosier Hall.
Registration kicked off at 8 o'clock Tuesday morning.  Extension Beef Cattle Specialist with Oklahoma State University gave the keynote address on "Addressing Cow Herd Efficiency in a World of Mixed Messages For Producers:  Matching Production Levels to Environmental Conditions".
Topics discussed included:  techniques to enhance the value of low quality roughage, confinement feeding of cows, management and feeding of early weaned calves, pasture, rangeleand, and forage.
The conference was put on by K-State Research and Extension, and was broadcasted remotely to Oakley, Pratt and Parsons.
Stay tuned to 1350kman.com for a video of the conference to come later.