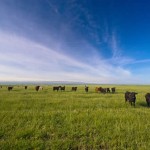 Kansas State University will be hosting the 2013 Beef Conference called Strategic Cow Herd Management: Surviving and Rebuilding after Persistent Drought on Aug 6. in Frick Auditorium.
The conference will include a keynote address by Dave Lalman an extension beef cattle specialist with Oklahoma State University. The conference will also include topics such as impending regulations of livestock antibiotics, income tax implications following livestock liquidation and confinement feeding of cows.
The fee to attend the conference is $60 per person or $100 for two or more individuals from the same operation. If traveling to Manhattan is an issue, the conference will be broadcast remotely to Oakley, Pratt and Parsons.
For more information on how to register for the webcasts or in-person attendance call 785-532-1280.