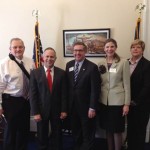 Congressman Tim Huelskamp of Kansas met with Kirk Schultz – President of Kansas State University, Fred Cholick, April Mason and Sue Peterson Wednesday to discuss a variety of issues related to the University. In visiting with these KSU leaders, Congressman Huelskamp reiterated his ongoing support of the final $300 million in NBAF funding this year and encourages the Department of Homeland Security to sign the contracts necessary to start the project.
K-State President Schultz discussed the university's plans to maximize the economic benefit to the community through K-State research and public-private partnerships.
"The importance of K-State to the Big First cannot be overstated. It provides an available local work force for skilled labor and academic research. Through its proximity to some of the most productive agricultural land in the nation, it is able to offer cutting edge Ag research to enable Kansan and American farmers to continue to be the most dynamic in the world.
"K-State is providing a path forward for Kansans seeking to invest in themselves and the community. I am pleased to hear about the great things going on at K-State and I will continue to support NBAF and other crucial projects for Kansas." Congressman Huelskamp commented.
Huleskamp will discuss the visit and other topics on KMAN's "In Focus" Friday.