The K-State volleyball team came firing out of the gates winning the first two sets, but the under-23 Italian National Team rallied for a five-set victory on Tuesday night at Ahearn Fieldhouse 17-21, 18-21, 21-16, 21-14, and 15-11. The Italians are warming up for the inaugural under-23 FIVB World Championships next month in Tijuana, Mexico.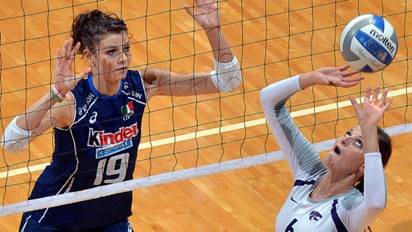 They'd never played together before the exhibition match against the Wildcats, and it showed. The Cats took advantage of their chemistry to lead by as many as nine points in the first two sets against a squad learning how to work together. Once, the Italians started clicking as a unit, the Cats couldn't turn them back including after taking a 5-1 lead in the 5th set. The match was played under rules being tested at the Worlds in effort to speed up the game, with 21-point sets in all but the 5th, and shorter time between points and during timeouts.
Kaitlynn Pelger led the K-State with 12 kills and six blocks. Freshman defensive specialist Kersten Kober spent the majority of the night at libero and had 12 digs. Katie Brand had 30 assists in a match with statistics that won't count in the record books. Italy was topped in kills by Laura Partenio with 15, Valentina Diouf had 14, and Alessia Gennari added 13.
K-State (12-1) volleyball will open Big 12 conference action on Friday night at West Virginia (13-1). First serve will be at 5:30pm at WVU Coliseum, and pregame begins at 5:00 on kstatesports.com.  The Italians will complete their tour of the Midwest by going to Kansas on Wednesday night, Tulsa on Friday night, and Wichita State on Monday night.
Stay connected to all things KSU on the go just text EMAW to 88474
For full video wrap-ups, including analysis, highlights, coaches & player interviews of K-State Football & Basketball check out PowerCatGameday.com