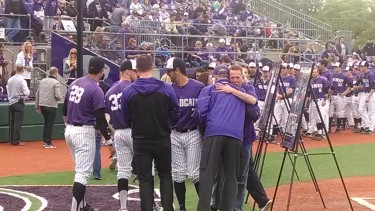 Austin Fisher's two-run double in the bottom of the ninth inning capped a three-run rally and allowed Kansas State to beat Texas 5-4 and in the process snap an 11-game losing streak in Big 12 play before 2,997 Saturday night at Tointon Family Stadium.
Before the game, the Wildcats' four Seniors, Blair DeBord, Ross Kivett, Jared Moore and R.J. Santigate were honored in a pre-game ceremony as arguably one of the best classes in the program's history who were part of K-State's first conference championship in Baseball in 80 years in 2013, along with a Regional Championship and nearly a trip to the College World Series.
K-State which was no-hit by two Longhorn pitchers on Friday night took the early lead in this game without the benefit of a hit when Max Brown scored on a passed ball. Kivett ended the drought with a base hit in the second inning. Two Wildcat errors helped key a three-run rally by Texas in the top of the fourth inning and the score remained 3-1 in favor of the Longhorns until the bottom of the seventh when Kivett's double drove home DeBord. However, the Longhorns made it a two-run game again when Tres Barerra blasted a leadoff home run to left field off of Moore who was lifted a short time later.
After stranding several eight runners on base through the first eight innings, K-State got things going in the ninth against Longhorn closer John Curtiss when Santigate led off with a single to left field. Taylor Anderson's single up the middle advanced Santigate to second base then Kivett singled to drive home Santigate and make the score 4-3. After Clayton Dalrymple popped out on a bunt attempt, Fisher drilled a 1-1 pitch into the left field corner scoring Kivett and Anderson. The players rushed out of the dugout before Kivett actually crossed home plate as they celebrated the first Big 12 victory since April 18 against Baylor. Levi Marvorhis (6-7) got the win in relief working two innings and allowing no runs.
Kansas State (25-29, 5-18) will close out the 2014 season on Sunday afternoon in the series finale against Texas as Jake Fromson will start for the Wildcats. First pitch at Tointon Family Stadium is set for 3:30 p.m.
Stay connected to all things KSU on the go just text EMAW to 88474
For full video wrap-ups, including analysis, highlights, coaches & player interviews of K-State Football & Basketball check out PowerCatGameday.com