For most of us, personal finances, and especially debt are hard topics to discuss.
The Riley county K-State extension is trying to make that easier. Gary Fike, Extension Director, says to help boost money management skills, including ways to save, manage debt and handle credit, they are offering the Wallet Wisdom program, which is six free webinars in April and May.
"In our current economy, you know, debt can get way out of control and you need to learn ways that you can pay that down more quickly and try to get rid of that, or at least reduce it so you don't become a slave to having all of your income going to other people," Fike adds. "'I owe, I owe, so off to work I go' is the mantra of many of our folks."
The first webinar is set for April 22 and Fike says its focus will be on a financial checkup.
"It's a regular checkup of your financial health regarding debt, regarding home mortgages, savings, charting your progress, all those things. And we'll outline steps on how to achieve the financial goals that you might have."
Fike adds that other topics covered will be spending plans, increasing savings, debt management, more about credit, and, one that he says is most critical, emotions and money.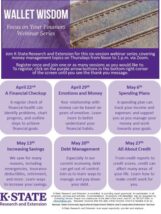 "Learning how to manage your money despite preconceived notions or your attitude or emotions about that, can affect your financial health."
Fike says the understanding more about your personal finances is important.
"Try to get your own finances under control so you can live the way you want to and not have to worry about if the refrigerator goes out, if your car breaks down, if you have a medical emergency," Fike adds. "Getting control of your finances really can help give you peace of mind and be able to sleep at night."
The webinars will be presented Thursdays from noon to 1 p.m. via Zoom, beginning April 22nd. By registering, participants can access just one or all six webinars. Time will be allowed for questions and answers and for privacy reasons, only the host will be able to see who is asking the questions.
For more information or to register visit riley.k-state.edu and navigate to the Wallet Wisdom events page.