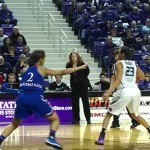 Chelsea Gardner scored 21 points and CeCe Harper added 16 as the Kansas Jayhawks held off a late comeback by K-State as they defeated the Wildcats 71-64 in Big 12 Women's Basketball action before an announced crowd of 6,337 Saturday afternoon at Bramlage Coliseum.
The two teams started out slow as they traded baskets early with KU holding an 11-9 advantage with 11:49 left in the first half. KU then widened the margin to 21-14 with 7:53 left in the half on a 10-5 run. After Chantay Caron, a Lawrence native hit a runner to cut the Jayhawk advantage to 26-23, KU closed out the half on a 6-3 run to lead 32-26 at halftime.
Early in the second half, KU's Chelsea Gardner the reigning Big 12 Player of the Week who played a key role in last weekend's upset of Baylor picked up her third foul and had to spend much of the second half on the bench. Despite the Jayhawks committing four turnovers and K-State cutting the deficit to three points, the Wildcats were unable to take advantage of their opportunity as KU was able to regain traction and build up a double-digit lead.
The Jayhawks appeared to have matters under control with a 61-47 lead with 4:45 left in the game before the Wildcats chopped the deficit to six points at 61-55 thanks to an 8-0 surge with 1:23 left. However, a shortage of timeouts prevented K-State from getting closer than five points the rest of the way and clutch free throw shooting by KU allowed the Jayhawks to prevail for their third win in Big 12 play.
Leticia Romero led the Wildcats with 17 points although most of those points were scored in the game's final two minutes on uncontested layups as KU was trying not to foul. Katya Leick added 12 points for K-State, which had a rough day at the free throw line missing 12 of 21 shots.
Kansas State (8-11, 2-6) will next be in action on Wednesday when they host Oklahoma at Bramlage Coliseum. Tipoff is set for 7 p.m.
Stay connected to all things KSU on the go just text EMAW to 88474
For full video wrap-ups, including analysis, highlights, coaches & player interviews of K-State Football & Basketball check out PowerCatGameday.com