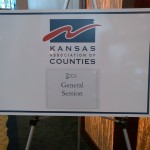 Every year, Kansas county commissioners from around the state join together for a conference.  This year was the 38th year for the event, and Manhattan was able to play host.
Pre-conference registration kicked off the conference at noon on Tuesday, at the Hilton Garden Inn Convention Center.  The opening reception was later that evening on the Flint Hills Discovery Center terrace.
Several general sessions and presentations took place throughout the day Wednesday, including regional conversations and dialogue.  A majority of that afternoon involved "information roundtables".  This involved two consecutive round table sessions, where commissioners could choose among five topics and learn in an informal environment.
The conference wrapped up on Thursday with a few guest speakers.  Kansas State University Men's Basketball Coach, Bruce Weber spoke while commissioners enjoyed their breakfast.
Commissioners viewed a state budget and financial outlook presentation  next, by Vice President for Fiscal and Health Police at the Kansas Health Institute, Duane Goossen.  He shared graphs and charts that outlined the state's economy.  One line chart in particular showed how the expenditures and revenue have evolved over the past decade.  He even projected how 2015 will look.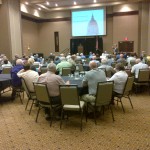 Pottawatomie County Commissioner, Gary Yenzer summarized the presentation by saying, "it showed that money is tight".
As far as having the conference in Manhattan, Riley County Commission Chair, Robert Boyd said he was thrilled, and the people seemed to be enjoying it.  "It means that we are getting our area and this locale some public notice, and boy has it been well received!"
The event concluded at 11 a.m. on Thursday, after a 2014 Kansas Legislative Session update.