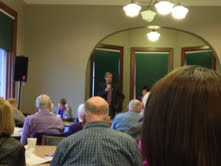 On Saturday, a forum was held at the Union Pacific Station for citizens to talk with our Kansas Representatives about important issues, including abortion laws, fire-arm rights, and questions over the new budget.
House Representative, Ron Highland, was in attendance along with Kansas Senator, Tom Hawk. Representatives Sydney Carlin and Tom Phillips also spoke to the public.
Senator Hawk spoke of a recent abortion law passed in the state confirming life begins at conception. The law also prohibits a woman having an abortion because of a disability of the infant or gender.
Representative Carlin spoke in detail about drastic cuts which may directly affect K-State, and other Universities in the state.
Their current work session is over, but will resume on May 8th.