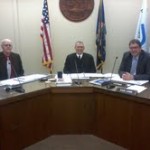 Senate Bill 298 was passed through the Senate on Wednesday.  The proposed legislation would eliminate the mortgage registration fee.  Riley County Commissioners, as well as Register of Deeds, Debbie Regester, have strongly been opposing the bill.
Regester mentioned the confusion the bill could cause if it is passed, during Thursday's Riley County Commission meeting.  She said she will expect that her department will have to reject more documents then they will actually record if the bill goes through.
Commissioner, Dave Lewis commented "this would be a major blow to county government".
Regester had more bad news for the commission, as February revenue numbers are down significantly from where they were at this time last year.
Now that springtime has arrived, Regester hopes this changes when families start to move and remodel homes.
——————
Three items were approved during Emergency Management Director, Pat Collins's agenda item.  The Riley County 911 Maintenance agreement with Ka-Comm. and the Riley County 911 Maintenance contract with Voice Products Service L.L.C service were both approved for renewal, as well as the inform server upgrade with Voice Products Service L.L.C.
According to Collins, and Riley County Police Department Director, Brad Schoen, new radios will be needed for the entire emergency management and police departments in the coming years.