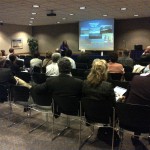 Around 120 meetings have taken place around Kansas so far involving the Governor's call to action for Kansas water priorities. This call to action was initiated by Governor, Sam Brownback at the Governor's Conference on Water late last year.
The call to action proposed that a vision team should be formed consisting of the Kansas Water Office, Kansas Department of Agriculture, and Kansas Water Authority.
The Governor's Vision Team for the Future of Water in Kansas held a meeting at Kansas State University Tuesday morning at the student union.
Director of the Kansas Water Office, Tracy Streeter and Kansas Secretary of Agriculture, Jackie McClaskey were the presenters during the meeting.  They first shared that the Governor first looked at what would happen if no action was taken over the next 50 years.  McClaskey said 40% of reservoirs would be filled with sediment and the Ogallala aquifer water supply would possibly be depleted.
Streeter showed water level changes from 1966-2012, water management trends, and Kansas reservoir loss of capacity.  He mentioned one of the biggest concerns is the Neosho Basin water supply.
They also spoke largely about the Ogallala aquifer, as in irrigated cropland- the aquifer region has a $5 billion value.
Several Kansas State University students were in attendance for the meeting, and McClaskey said "I was very impressed with the questions that students asked today.  They are obviously knowledgeable about water and it's importance".
Streeter agreed with McClaskey, saying "We had great input from the students.  When you start talking about a 50 year plan, our young people will be the ultimate beneficiaries of what we do today".