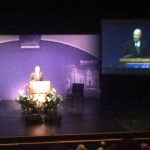 Former National Security Advisor to President Barack Obama, Thomas Donilon first visited Manhattan 33 years ago, and Tuesday afternoon he returned to give the second Landon Lecture of the year.
Donilon's first position in the White House was back in 1977, when he worked with former President, Jimmy Carter.While working there, he helped with the development of the U.S. Department of State's policy initiatives, including the NATO expansion.
As national security advisor, Donilon oversaw the National Security Council staff, chaired the cabinet-level National Security Council Principals Committee, briefed President Obama daily on national security issues and was responsible for overseeing the administration's foreign policy, intelligence and military efforts.
During Donilon's lecture, he said "young people are used to hearing a pessimistic story about the country's future".  Although Donilon added he is aware of the country's condition, he said he is very optimistic as far as the recovery the country will experience over the next several years.
He shared some impressive facts and statistics that outlined the reason he is optimistic, such as-the United States has the largest economy in the world, is the #1 producer of natural gas, and could become the #1 producer of oil.  The nation's defense budget is also five times as big as the nearest competitor.
"We have a bright demographic future", Donilon said.  According to him, the median age in the U.S. will be 40 in the coming years, as oppose to China-where it'll be 50.  He said the upcoming young workforce proves the U.S. will continue to be the strongest country in the world in many areas.