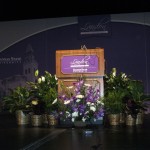 The Landon Lecture Series, on public issues, has had a long tradition of hosting public leaders to talk about various issues that have taken place in the world.
During Monday evening's lecture series, six past United States Secretaries of Agriculture shared experiences, information and insight on a variety of topics.  Topics discussed included:  the Farm Bill, government and debt problems, estimated increase in population, and agriculture technological changes.
Ann Veneman served as secretary from 2001 to 2005.  She shared statistics that helped the audience put the national agriculture need into perspective.  She stated 842 million people suffer from 'chronic food insecurity', there are 1.4 billion overweight people in the United States, 53% of children born are born into WIC families, 40% of the world's food is wasted, and 1/3 of the population is obese.