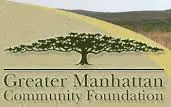 The Greater Manhattan Community Foundation has been awarded an implementation grant through the Kansas Health Foundation's Healthy Communities Initiative worth up to $75,000 over the next three years. Manhattan is one of 12 grantees in the state to receive this funding, which will help support the Flint Hills Wellness Coalition.
The FHWC goal is to create a publicly appointed food policy council to address nutrition related issues in our community. One area that has already garnered interest among stakeholders and the community is healthy vending in Riley County.
"We were pleased to have been selected as one of the twelve grantees for this initiative" said Vern Henricks, CEO of the Greater Manhattan Community Foundation. "The grant will give the Flint Hills Wellness Coalition much needed support towards making Manhattan the best community possible."
While it's well known that proper nutrition and physical activity are connected to good health, healthy eating and active living can be challenging when healthy foods and physical activity opportunities are limited in availability and accessibility. The places where people live, learn, work and play influence the ability to maintain a healthy diet and complete the daily recommended amount of physical activity.
Prior to applying for the implementation funding, all 12 communities participated in a yearlong planning process, during which they were asked to develop community action plans and identify specific policy, systems and environmental changes that would have the greatest impact for Kansans in the areas of healthy eating and active living.
"Proper nutrition and regular physical activity are key components to lowering the risk of chronic disease and increasing overall health," said Steve Coen, president and CEO of the Kansas Health Foundation. "Through this initiative, we're excited to partner with organizations and communities across the state as they work to implement their plans meant to ensure that when it comes to healthy eating and active living for Kansans, the healthy choice is also the easy and accessible choice."
The coalition, formerly known as the Healthy Little Apple Coalition, now entitled the Flint Hills Wellness Coalition, is still a relatively new coalition. One of the first goals is to create a public awareness campaign, beginning with branding a consistent logo, history, purpose, and goals. The first step in this process will be to work with a professional to develop a logo, website, business cards, and printed materials for the coalition to share its identity and mission. This professional will help to dissipate confusion and reinforce the coalition purpose to support physical activity and healthy eating choices by promoting healthy lifestyle habits, with the current goal of creating a food policy council and working on healthy vending in the community. After the brand is developed, the coalition will establish a strategic plan to engage and educate the community about the coalition's current goal, which is raising awareness and education about a local food policy council. Promotion will be done through outlets such as public forums, social media (Facebook, Twitter, community websites), public presentations to community groups such as Rotary, in addition to other outlets.
The Flint Hills Wellness Coalition supporting partners are; City of Manhattan, Greater Manhattan Community Foundation, Manhattan Broadcasting Company, Mercy Regional Health Center, Riley County Extension Office, Riley County Health Department, USD #383 Foundation.