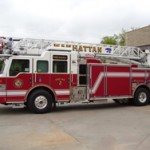 A structure fire caused severe damage late Friday night.
The Manhattan Fire Department was dispatched to 3144 Ella Lane for a report of a structure fire around 10:45 p.m. Friday.  Upon arrival, crews found a two story residential structure with light smoke coming from the rear of the structure.
The fire was handled with the initial first alarm response and was contained within 15 minutes.  Six fire apparatus and sixteen firefighters repsponded with the las units clearing at around 1 a.m.
The house had four occupants at the time of the fire and the residents exited the structure without injury.
The fire appeared to start in the rear exterior wall of the structure and was contained to the immediate area.  Loss is estimated around $5,000, and the fire cause is still under investigation.