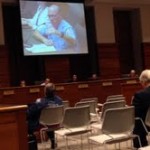 Climbing a six foot wall may no longer be a necessity to become a police officer in Riley County, with the physical test, job task analysis, and job descriptions up for review. Riley County Police Director Brad Schoen told law board members Tuesday something needs to be done. And RCPD Legal Counsel Mike Gillespie agrees. Gillespie specifically suggested the 150 dollars an hour that's needed by the consultants is a necessity. About 40 hours would be involved in the  six more difficult positions involved.
Board member Wynn Butler asked if RCPD could do it better, but Director Schoen emphatically said no, adding he was part of the process in formulating the physical test that's used now. Schoen pointed to the number of injuries received by those currently performing the test.
Law Board chair John Matta sided with having an outside firm on the matter. Since the item was slated for discussion only, no action was taken at this time.
The group also approved a police vehicle purchase for a police service aid and heard an update on court security discussions.