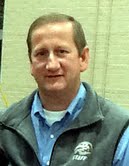 Tracy Newell has been named the principal of Eisenhower Middle School. Newell currently serves as the Lead-Associate Principal at Garden City High School in Garden City, KS. He has served in that position since 2006. Prior to that, he was a State Math Consultant for the Kansas State Department of Education from 2004-2006. He also has been a mathematics teacher at Oskaloosa Middle School and McLouth High School. He has a B.A. in Mathematics Education and a M.S. in Educational Administration from Washburn University.
"I am appreciative, enthusiastic, and honored to have been chosen for the Principal's position at Eisenhower Middle School," states Newell. "I have had the opportunity to meet with some of the staff and parents and heard great things about the school. I look forward to meeting the remainder of the staff, parents, and the students of Eisenhower Middle School."
"We are pleased to announce the appointment of Tracy Newell as Principal of Eisenhower Middle School beginning with the 2013-14 school year," states Dr. Robert Shannon, Superintendent, who first made the announcement on KMAN's "In Focus" Wednesday morning. "Mr. Newell brings to the position experience as an assistant principal at Garden City High School as well as mathematics teaching experience at both the middle school and high school levels. Tracy has also served as a mathematics consultant for the Kansas State Department of Education. We look forward to welcoming Tracy to the Manhattan-Ogden USD 383 team this summer."
Newell will begin his new position on July 1, 2013. He replaces Greg Hoyt. Mr. Hoyt will be the principal of Manhattan High School beginning on July 1.