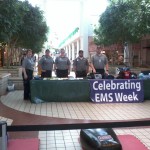 Riley County EMS Paramedics were at the Manhattan Town Center Mall Saturday to help spread the word about safety. Mall-goers had the opportunity to try different life saving techniques as a part of National EMS Week.
Paramedic, Nathan Dixon mentioned he hopes every Manhattan individual gets CPR certified so that Manhattan can be the safest town. Dixon added, he enjoys EMS week because he feels they are the guys that are sometimes forgotten. In emergency situations, the public often hears of the police department and the fire department's work, so it's good to remind people the EMS help as well.
The event took place from 10 a.m.-6 p.m.