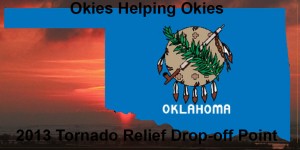 Just a day after the catastrophic events in Oklahoma, the relief efforts have begun in Manhattan.
Heidi Kitts is from Shawnee, Oklahoma and currently lives in Manhattan with her husband who is retired from Fort Riley and she is leading the efforts collecting donations.
Donations can be non-perishable food items, clothing, and shoes for all age-groups and genders. Monetary donations are also being accepted. Cases of water are also accepted due to the sparse amount of clean water in Shawnee and Moore.
Kitts says the devastation in Shawnee has affected her by not being able to reach a friend who teaches at one of the elementary schools flattened by the tornado.
Kitts adds a simple donation of a can of green beans or a t-shirt goes a long way.
To find out how you can donate, call 785-341-2523 or email okieshelpingokies@gmail.com