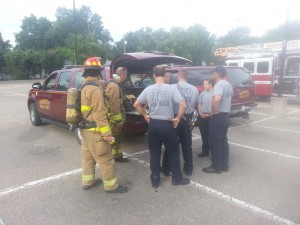 The scene outside Marlatt hall on the Kansas State University campus looked like it was taken straight out of the latest Hollywood disaster movie this morning, as fire engines and trucks with satellite dishes and other communication devices gathered in the parking lot. Fortunately, the Manhattan fire department was only training for an emergency. Today was the second day in a three day training event in which the Manhattan fire department worked with the Kansas national guard's 73rd Civil Support Team in how to best handle a variety of scenarios in which hazardous waste may be present.
Assistant Chief for training and safety for the department Mike Kaus tells KMAN that the department and the national guard work hand in hand in these kinds of cases. He explains the department can potentially arrive on a hazardous material scene and determine that more help is needed. In this case, they will recon the scene, gathering as much information as possible while waiting for the 73rd Support Team to arrive from Topeka, or wherever else they may be training. He adds that it also may take a bit of time after they arrive on scene to realize they need to call in the 73rd.
Kaus also explains that he and the battalion chief arrived at the training site earlier to set up the training, placing the training hazardous material in the building. Responders have to find and identify the material, as well as secure the scene. Marlatt hall staff and residents were told of the training well ahead of time, so that when they see responders in full gear, they will not panic. Marlatt hall was chosen to give the training a bit more realism, as most hazardous material situations take place in a residence hall type of setting.
Training is designed to train responders in the harshest situations possible. Meaning that most times, the scenarios they actually respond to are not as severe as the ones they train for.