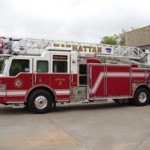 The Manhattan fire department responded to a couple of interesting calls over the weekend.
According to a report issued by the department this (Monday) morning, fire crews responded to a call in which a vehicle struck the front of the Dara's Fast Lane located at 3270 Kimball Ave. Upon investigation, it was determined that the damaged was limited to the front door, and it was safe for the business to stay open. the damage was estimated at $3-thousand.
It was also reported that two engines responded to a report of a vehicle fire at 2001 Poyntz Ave. Upon arrival, they found a vehicle completely on fire. The cause of the fire is unknown and the estimated loss is $8-thousand.