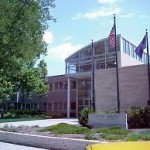 A three hour discussion, much of it passionate, dominated Monday's meeting of the Manhattan historic resources advisory board, with the city auditorium's possible renovation drawing out veterans and other interested citizens. Deputy City Manager Jason Hilgers was there to present information regarding the many months of study the city has been involved in toward possible renovation of the facility. He says much of the input Monday night dealt with the lack of attention to veterans at the Peace memorial auditorium, with only a simple plaque.
Kevin Credit, who serves as staff liaison for the advisory board tells KMAN following the many comments–it was finally time to take action, which the board did. A motion was approved to recommend to the city commission to direct the architect of the project to study alternative designs to the project, which might include saving the stage. It was also recommended studies be done regarding the historic elements of the facility prior to completion of the design phase of the project. 
Hilgers adds the city is offering to develop a committee to rededicate the space to veterans and to enhance the peace memorial designation.
Another meeting on the matter is set for Thursday evening at seven in the city commission room at city Hall On Poyntz Avenue.